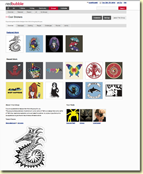 Cool Stickers Group
Cool Stickers is a group I co-host on Redbubble it's dedidacated to showcasing great sticker designs.

Please drop in and take a look at the cool designs.
Regards,
Rupert.
---



CARS by CheriesArt
Rainbow Fish by Kevin Middleton

Zebra-Seahorse by rain-dogs
Dachshund by Margaret Sanderson
Sunk deep in the night by ROUBLE RUST
Rollerboot by Mel Preston
Mermaid by Jacqueline Fae
O for Oarsome Sticker by Raz Solo
Moon Hare by Lynnette Shelley
Music Not War by Jonathan Fae
'Cat ' T-Shirt by Robin King
Actual Size by puppaluppa
Duet by Bize
Fractal Flower - Blue by Leah McNeir
...action by andy551
YakYak by shocco
Migrating Angles by TeeArt
Why does it always rain on me? by lunaticpark
Love Sticker by RachelJayne
Butterfly 2 by Yvonne Less
POP! by Purplecactus
Paper Scissors Stone by miners
Love Trees by vian
---

APA citation:
Russell, R. (2016, July 04, 02:01 pm). Cool stickers group features
Retrieved December 19, 2018, from
http://www.rupert.id.au/coolstickers/features.php
13014 Visits since June 05, 2010


Last refreshed: December 19 2018. 11:36.43 pm

This work is licensed under a Creative Commons Attribution-NonCommercial-ShareAlike 2.5 License.