Home > Tutorials > Rupert's Tips Page
Word tricks that everyone should know
Thanks to Alison Lawes for these tips.
*** Trick 1: Go back to your last editing location
When you open a document pressing: [Shift] [F5] as soon as the document opens. Takes you to where you made the last edit before you saved the file.
[Shift] [F5] is the Go Back shortcut, which cycles you between your four most recent edits during a Word session. But if you can remember to hit it immediately after opening a document, Word will jump to the last thing you changed before saving and closing that doc.
***** Trick 2: Make a vertical text selection
Here's a trick that seldom appears on the shortcut lists. Most of the time, we select text horizontally—a word, a series of words, a paragraph—from left to right or vice versa. But occasionally, the selection has to be vertical.

For instance, suppose you wanted to delete the leading characters in Figure A.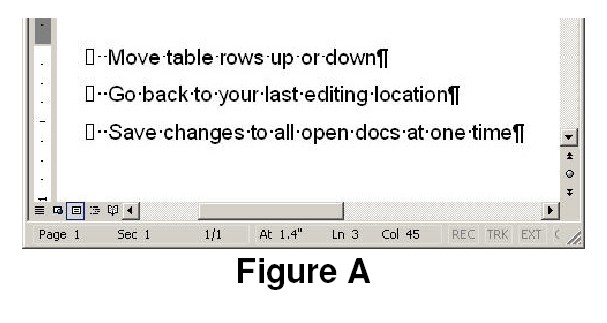 Although we selected text at the beginning of the lines in this example, you can make vertical selections anywhere on the page.
To make a vertical selection, hold down [Alt] as you drag down through the text you want to highlight.
Figure B shows the column of unwanted characters selected using this technique. Hit [Delete] and bam, they're gone.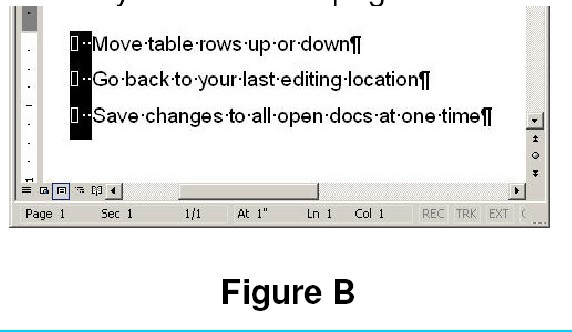 ---
APA citation:
Russell, R. (2016, July 04, 02:23 pm). Rupert's tips page.
Retrieved June 07, 2023, from
http://www.rupert.id.au/tips/index.php


396 Visits since March 7, 2007