Home > Tutorials > Ultra Fractal 2.04 Notes
Ultra Fractal 2.04 Notes
Ultra Fractal 2.04 Notes PDF File

494KB
CorelDraw10

file 449 KB
Download Ultra Fractal 2.04.exe
The Latest version (5.04 as of April 2014) of Ultra Fractal is avaiable from: http://www.ultrafractal.com/
Also see my What are Fractals? page
I have recently (April 2014) purchased a copy of Janet Parke's UF Tutorial which I am working through. I am up to lesson 3 so far.
See also my what are fractals? page.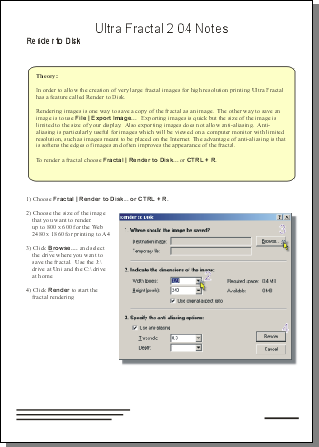 Ultra Fractal 2.04 Notes PDF File

494KB
CorelDraw10

file 449 KB
---
APA citation:
Russell, R. (2016, July 04, 03:46 pm). Ultra Fractal 2.04 Notes.
Retrieved December 19, 2018, from http://www.rupert.id.au/tutorials/ultra_fractal/index.php

Last refreshed: December 19 2018. 11:36.32 pm
This work is licensed under a Creative Commons Attribution-NonCommercial-ShareAlike 2.5 License.
4900
Visits since April 20, 2007